Diastolic Robotics has always been interested in both medicine and engineering. This page describes some projects where the two fields have a harmonious intersection: medical software applications.
Surgical patients with Obstructive Sleep Apnea (OSA) are more likely than non-OSA surgical patients to suffer post-operative complications. (See: Gupta et al. "Postoperative Complications in Patients With Obstructive Sleep Apnea Syndrome Undergoing Hip or Knee Replacement: A Case-Control Study" Mayo Clin Proc. 2001;76:897-905, and Liao et al. "Postoperative complications in patients with obstructive sleep apnea: a retrospective matched cohort study" Can J Anesth/J Can Anesth (2009) 56:819-828)
The Obstructive Sleep Apnea Screener (OSAS) provides four OSA screening tools including:
The American Society of Anesthesiologists' Checklist
The Berlin Questionnaire
The STOP Questionnaire: Snoring, Tired, Observed breathing disruption, high blood Pressure
The STOP-BANG Questionnaire: comprised of the STOP Questionnaire with further questions for BMI, Age, Neck circumference and Gender.
The OSAS software obviates the need for memorization of these tests and referral to textbooks or journals to administer the screens correctly. Users have access to these screens at their fingertips. Using these screens, physicians can determine the general likelihood (low or high) of a patient suffering from OSA. This application will be particularly useful for anesthesiologists/anesthetists, surgeons and other care providers obtaining patient history prior to surgery, so that they may be better prepared to deal with complications if they arise.
Once data is input, the likelihood of OSA is recalculated for each category and questionnaire and the results are displayed at the bottom of the screen. Statements for categories within each test and for the overall result of the test are shown with highlighting according to the result:
Category results will have either no background to indicate a normal, non-positive result, or they will have a yellow background to indicate that the patient is positive for that category.
Overall results are color coded blue to indicate a low probability of OSA, or red to indicate that OSA is likely to be present in the patient according to the particular questionnaire.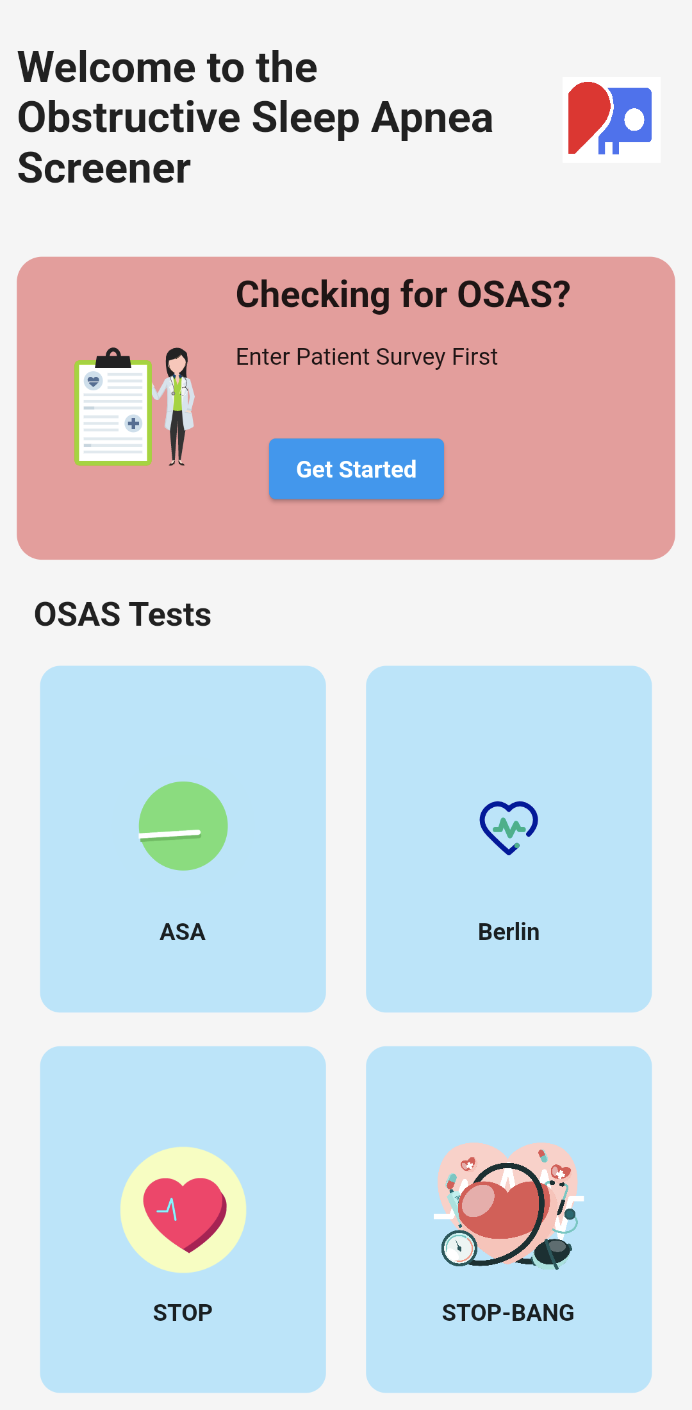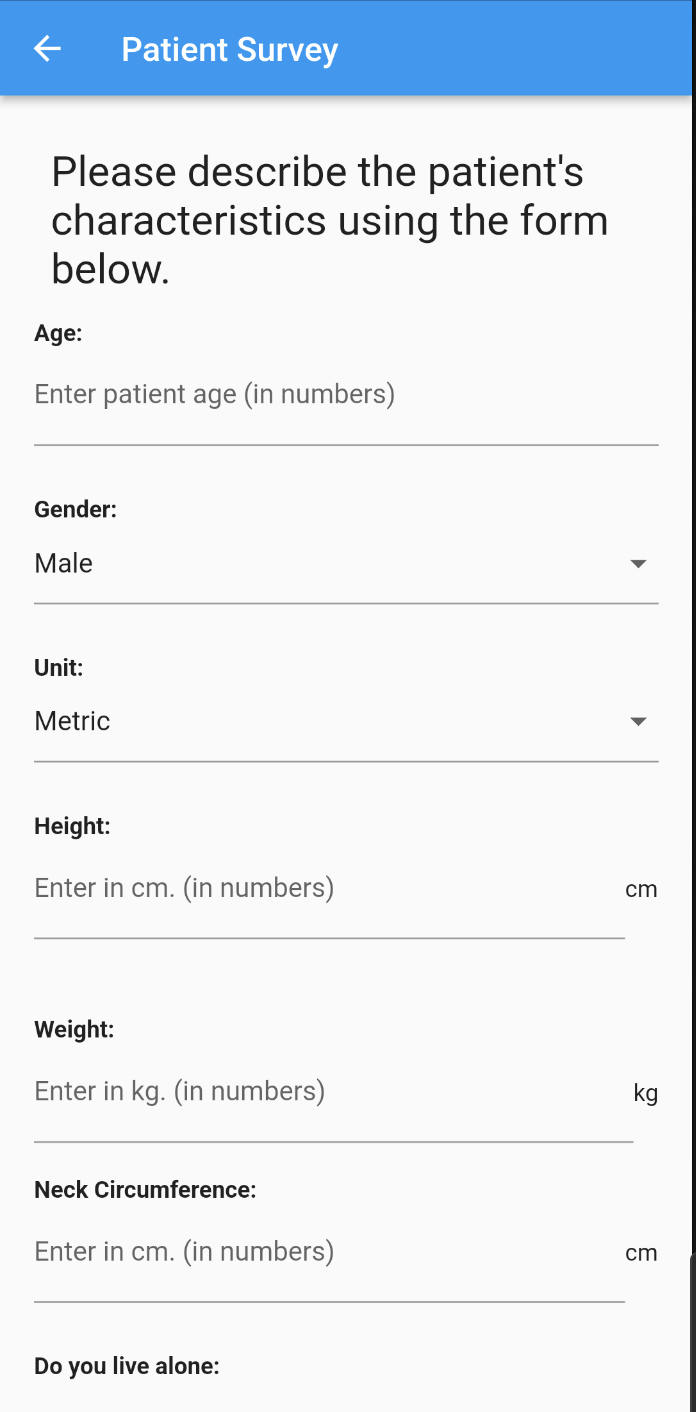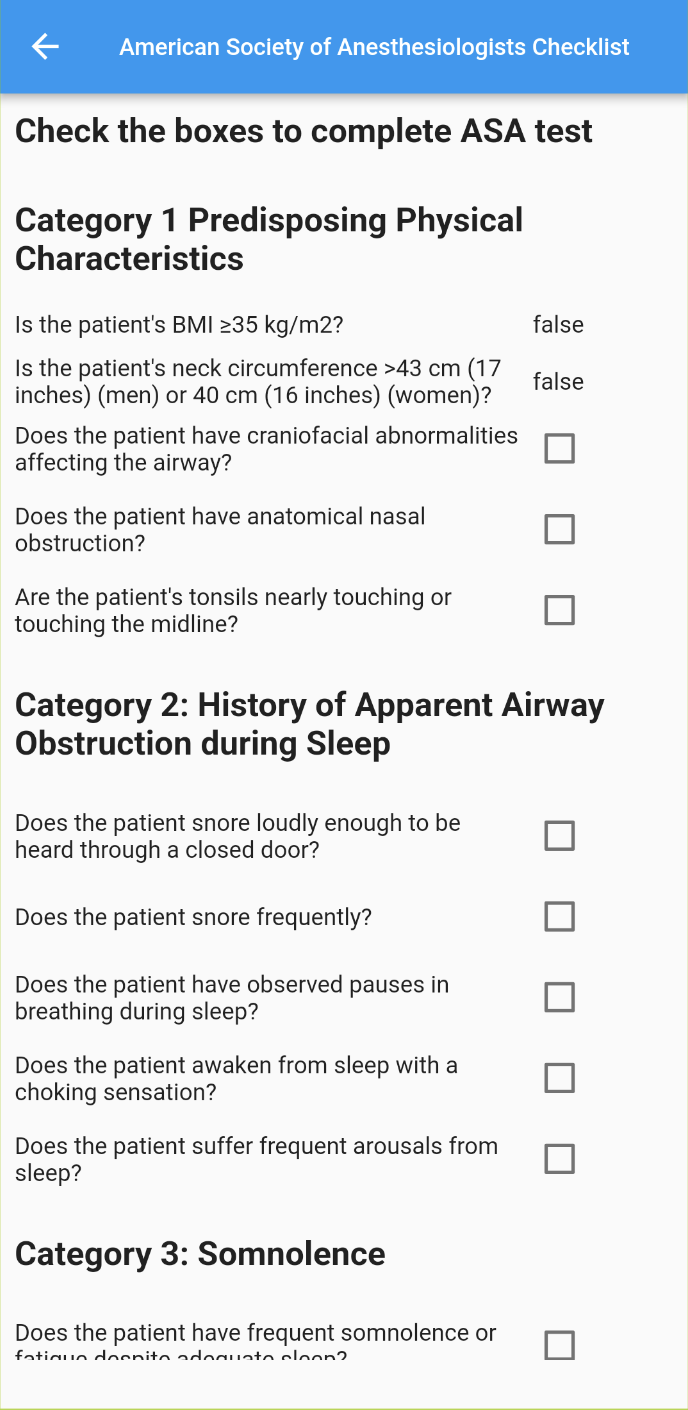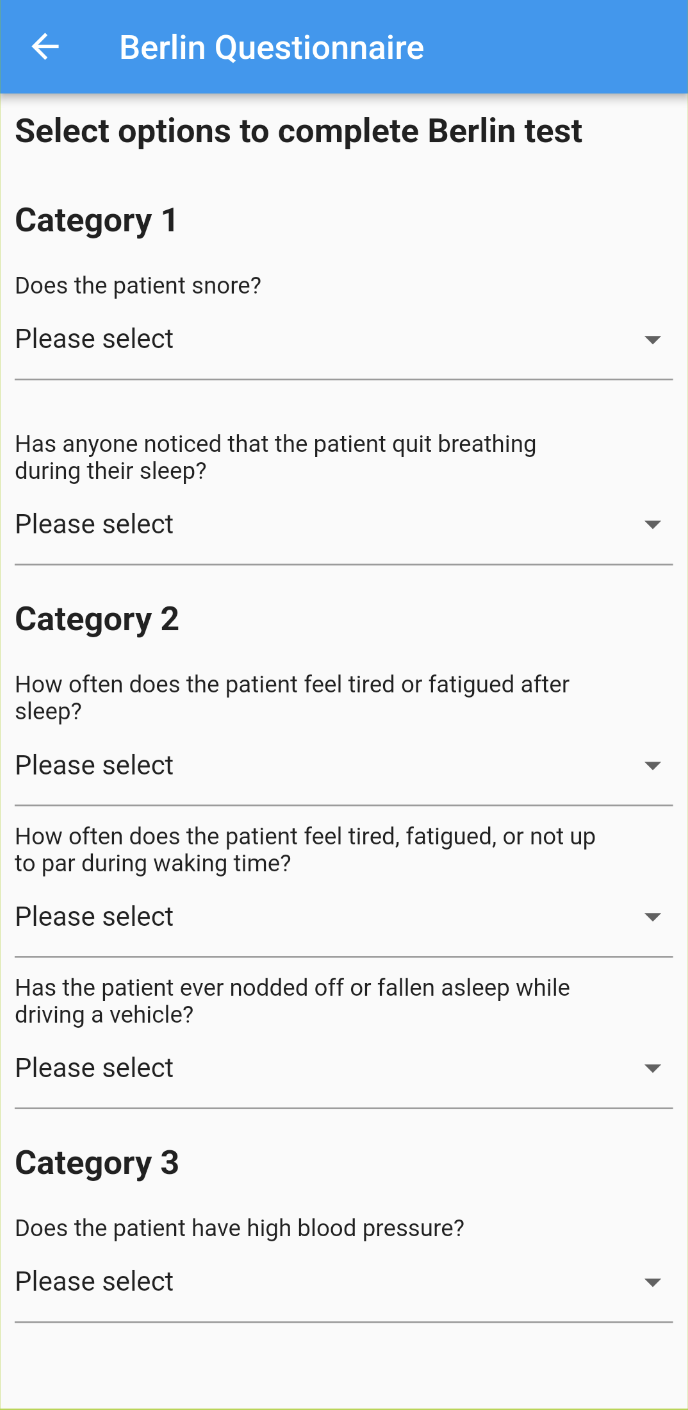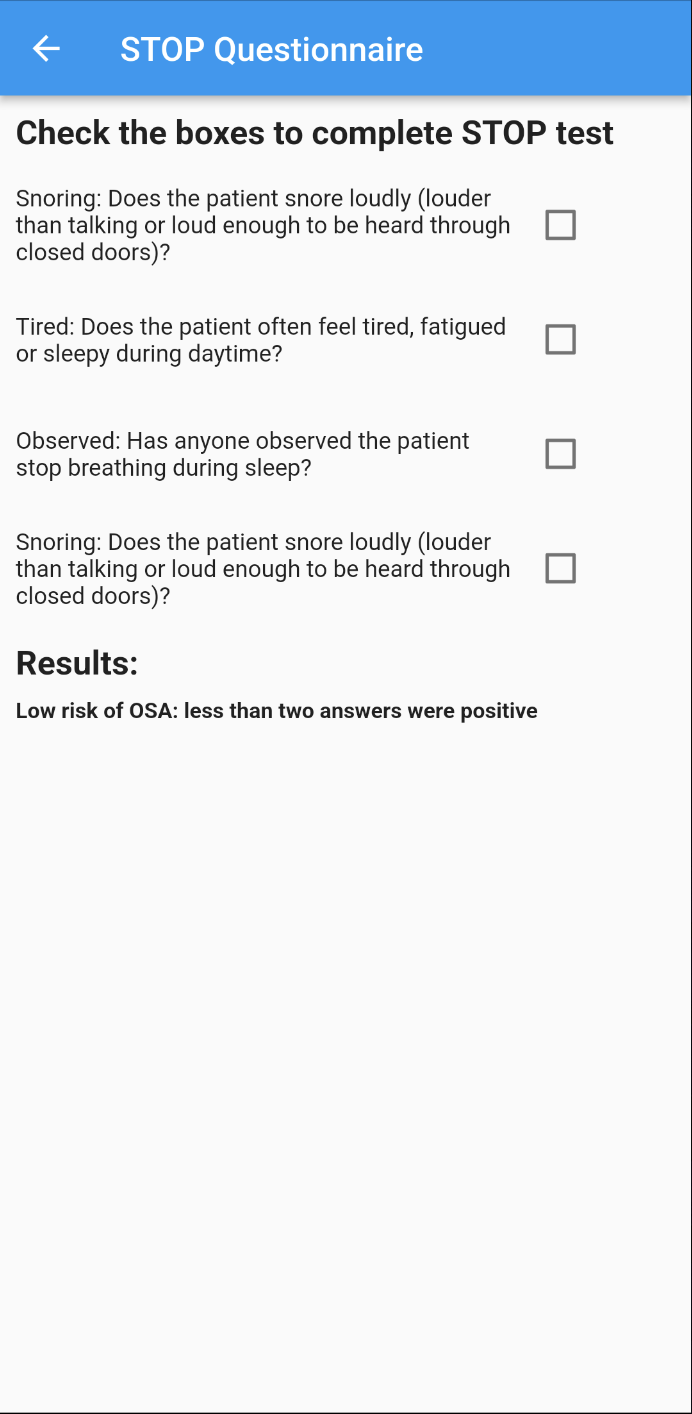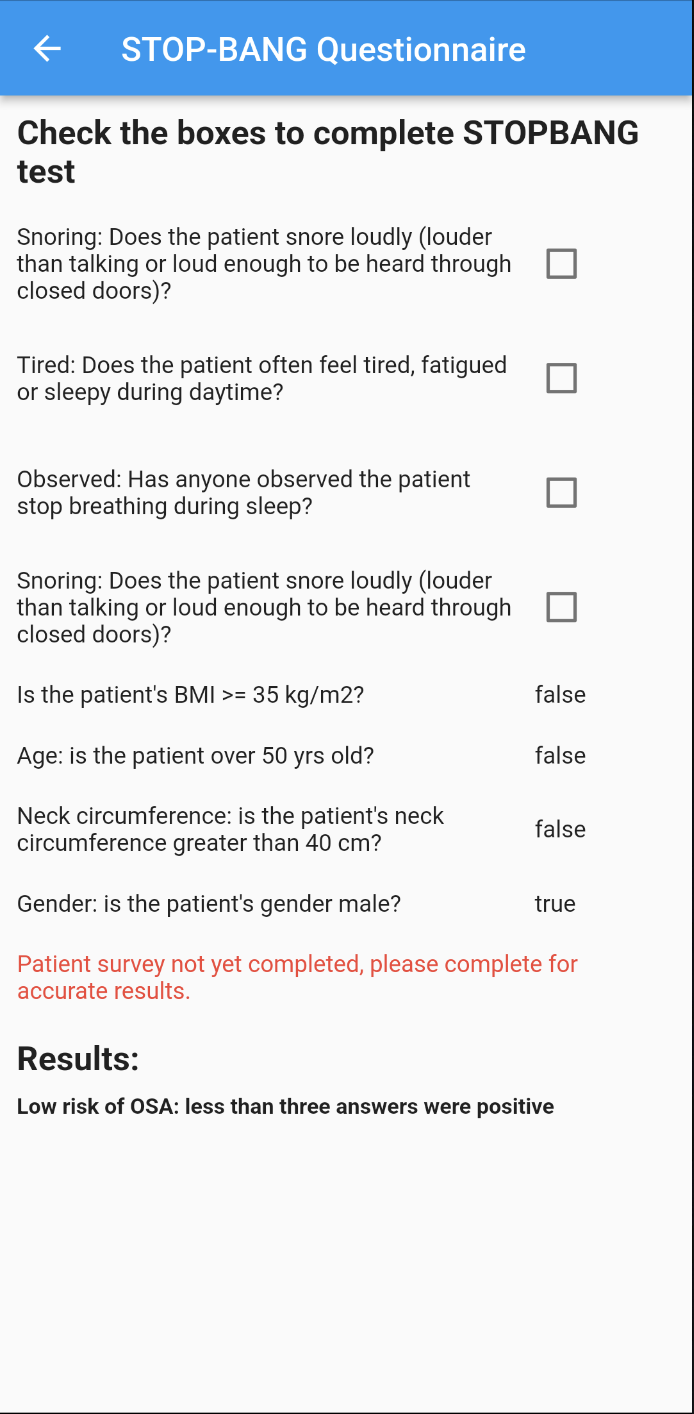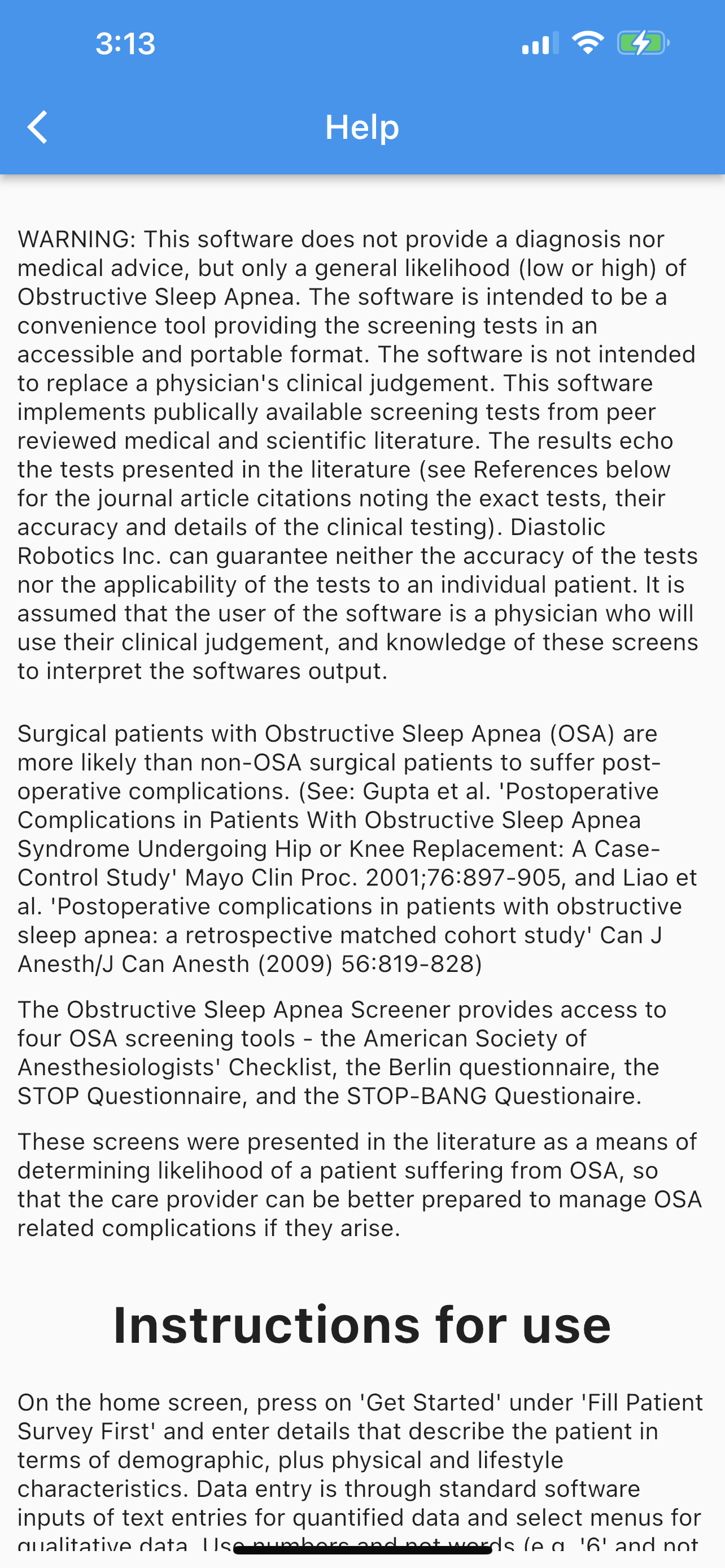 Obtaining the App
Get OSAS on app stores: Android Phones,and Tablets

iOS Disclaimer and Key EULA Terms
WARNING: This software does not provide a diagnosis nor medical advice, but only a general likelihood (low or high) of Obstructive Sleep Apnea. The software is intended to be a convenience tool providing the screening tests in an accessible and portable format. The software is not intended to replace a physician's clinical judgement.
This software implements publically available screening tests from peer reviewed medical and scientific literature. The results echo the tests as presented in the literature. Diastolic Robotics Incorporated can guarantee neither the accuracy of the tests nor the applicability of the tests to an individual patient. It is assumed that the user of the software is a physician who will use their clinical judgement, and knowledge of these screens to interpret the software's output.
Diastolic Robotics Incorporated and its officers ("DRI") accept no liability for errors or omissions in the material or data, or for any consequences arising from such errors or omissions, including any loss which may be incurred as a result of reliance on the accuracy or completeness of the material or data.
THE SOFTWARE IS PROVIDED "AS IS", WITHOUT WARRANTY OF ANY KIND, EXPRESS OR IMPLIED, INCLUDING BUT NOT LIMITED TO THE WARRANTIES OF MERCHANTABILITY, FITNESS FOR A PARTICULAR PURPOSE AND NONINFRINGEMENT. IN NO EVENT SHALL THE AUTHORS OR COPYRIGHT HOLDERS BE LIABLE FOR ANY CLAIM, DAMAGES OR OTHER LIABILITY, WHETHER IN AN ACTION OF CONTRACT, INSULT OR OTHERWISE, ARISING FROM, OUT OF OR IN CONNECTION WITH THE SOFTWARE OR THE USE OR OTHER DEALINGS IN THE SOFTWARE.
IN THE EVENT THAT DIASTOLIC ROBOTICS IS FOUND LIABLE FOR ANY LOSS, ANY CLAIM ARISING OUT OF THE USE OF THIS SOFTWARE SHALL BE LIMITTED TO THE AMOUNT PAID BY THE USER FOR THE USE OF THE SOFTWARE.
USE OF THIS PROGRAM INDICATES YOUR ACCEPTANCE OF THIS DISCLAIMER AND TERMS AND CONDITIONS OUTLINED IN THE LICENSE.
Support
For feedback and questions please send email to: feedback@diarobo.com
Contact us
Version Notes
December 13, 2011:
Release of Version 1.0
January 12, 2023:
Version 2.0: Updated UI and look. Added functionality for data transmission to the User.
Thank you for your comments and support.